Universal Corner Light Kit (LH/RH)
Product Code
#UNI-RK-CNR-ST4
From AU$1,150.00
To AU$1,219.00
For motorsport customers looking for additional corner lighting for road, track, or off-road events, look no further than our Universal Corner Light Kit. Comprising a pair of ST4 lights, each is fixed using our Universal Single Lamp Mount which provides flexibility to mount the lights considerate of the contours on the vehicle bodywork. Once installed there is flexibility to angle the lights to suit individual requirements.
The ST4 lights boast a seamless aero design with the LED and optic arrangement carefully optimised to give an impressive 40 degree left/right spread (each light). With 1 lux extending to 278m from each light, there's little to be left to the imagination in terms of visibility, especially when combined with any of our bonnet mount rally kits. Still if the preference is for even greater visibility at the sides of the road, the inclusion of clip-on diffuser/reeded lenses permits this option.
With the colour temperature of the lights at 5000K, the ST4s will combine in a perfectly homogenous light distribution when combined with any of our other bonnet/grille mount lighting options. The suitability of the ST4s to motorsport applications is enhanced further by the low power consumption – 47W each lamp, and current draw – 3.3Amps (at 14V).
Assembly required. Wiring kit(s) sold separately.
PAYMENT & DELIVERY INFORMATION
Please note all transactions are completed in AUD:

DELIVERY – AUS/NZ CUSTOMERS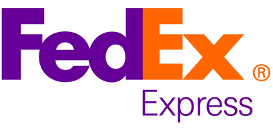 Goods will be shipped via courier within 1 working day of your order being placed (stock permitting). Shipping costs will be calculated at the checkout. For more information visit our Delivery Information page.
DELIVERY – INTERNATIONAL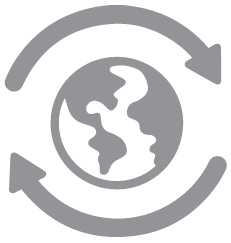 For International orders and deliveries, please use or global website - www.lazerlamps.com
Universal Corner Light Kit (LH/RH)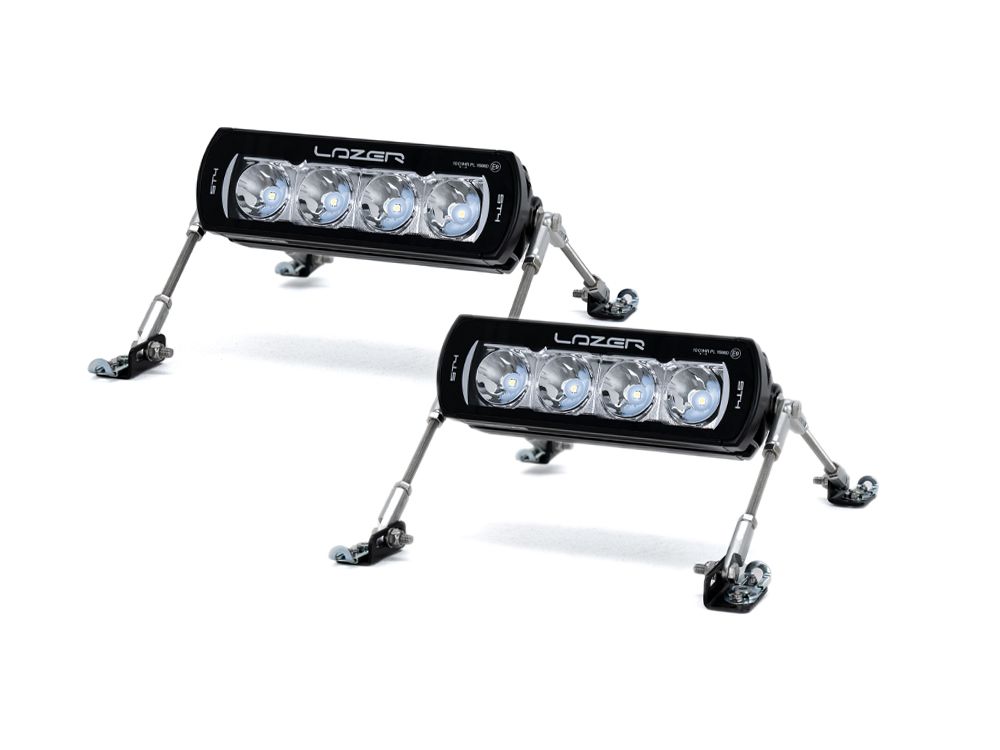 Universal lightweight corner mounting systems
Complete with 2x ST4 Evolution LED driving lights
Quick fit and release functionality
Universally compatible with any vehicle
Supplied with 15 Degree Reeded Lenses
Assembly required
Compatible vehicle wiring kit available – sold separately
Manufactured in the UK
5 year warranty
Technical Specifications
Based on: 1x ST4 Evolution.
| | |
| --- | --- |
| Voltage Range (DC) | 10-32V |
| LED Life | 50,000 hours |
| Weight | 670 gr |
| HIGH BEAM FUNCTION | |
| Total Luminous Flux | 4136 Lm |
| Total Driver 'FOV' Flux † | 2490 Lm |
| Colour Temperature | 5000K |
| Number of High Output LEDs | 4 |
| Power Consumption | 47 Watts |
| Current Draw (at 14.4V) | 3.3 Amps |
| DIMENSIONS | |
| Width | 204 mm |
| Depth | 68 mm |
| Height | 64 mm |
| PHOTOMETRIC DATA | |
| Horizontal Beam Angle | 40° |
| 0.25 lx Line | 555 metres |
| 0.5 lx Line | 393 metres |
| 1 lx Line | 278 metres |
| 3 lx Line | 160 metres |
† Driver FOV flux is a measure of effective lumens taking consideration of the amount of light in a driver's 'field-of-view' defined as an area +/- 45o left/right, and +/- 10o up/down. For more information – click here.
What's Included
2x Single Lamp Mount Kit
2x ST4 Evolution LED lamps
Assembly instructions are available in the downloads section below.
Downloads
CLICK BELOW TO DOWNLOAD (OPENS PDF IN NEW WINDOW)