Sentinel 9'' Elite (Black)
Product Code
#0S9-ELITE-WM
From AU$800.00
To AU$899.00
New for 2021, the Sentinel range are 9" round lamps that combine distinctive high-end product design, with superior lighting performance and build quality symbolic of the Lazer Lamps name. The Sentinel Elite product comes available with a sleek black internal appearance, and a combination of 32 high power LEDs, representing the very best lighting performance as expected from a product bearing the 'Elite' tag. Lighting performance aside, meticulous product styling ensures this is a product that stands out for all the right reasons.
Emitting 15,232 raw lumens, the lamps deliver 1 lux to 742m, but it is in the 52 degree horizontal spread of light, and visibility at the sides of the road or track in the mid to long-range that the Sentinel Elite really comes into its own. For a demonstration of the lighting performance, please click the videos section below. Like all Lazer products, the colour temperature at a pleasant 5000K is easy on the eye, while maximising sharpness and definition of objects ahead.
The stealth design of the black variant of the Sentinel lamp is achieved through the adoption of black printed circuit boards, and black bezel feature with intricate hexagonal design detail for a unique, contemporary appearance. The aesthetic appeal of the lamp is furthered through the 'wide' diecast aluminium mounting bracket, with Sentinel stamp, which like the lamps themselves has an automotive-grade pre-treatment before being powder coated satin black. The result is a premium finish on the product that is fully protected against aesthetic deterioration or corrosion. An alternative 'slim' mounting bracket, along with a range of: lens covers, stay bar kit, and anti-theft fasteners, are available as optional accessories.
As with all Lazer products, the Sentinel lamps have been designed, engineered, and are manufactured in-house, in the UK. There is no compromise in regards component parts, or build processes to achieve a superior product, while simultaneously ensuring that more than ever, environmental stewardship and an ambitious carbon-reduction program have also featured heavily in the Sentinel products design and build.
PAYMENT & DELIVERY INFORMATION
Please note all transactions are completed in AUD:

DELIVERY – AUS/NZ CUSTOMERS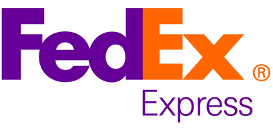 Goods will be shipped via courier within 1 working day of your order being placed (stock permitting). Shipping costs will be calculated at the checkout. For more information visit our Delivery Information page.
DELIVERY – INTERNATIONAL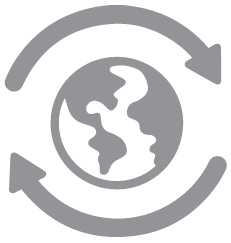 For International orders and deliveries, please use or global website - www.lazerlamps.com
Sentinel 9'' Elite (Black)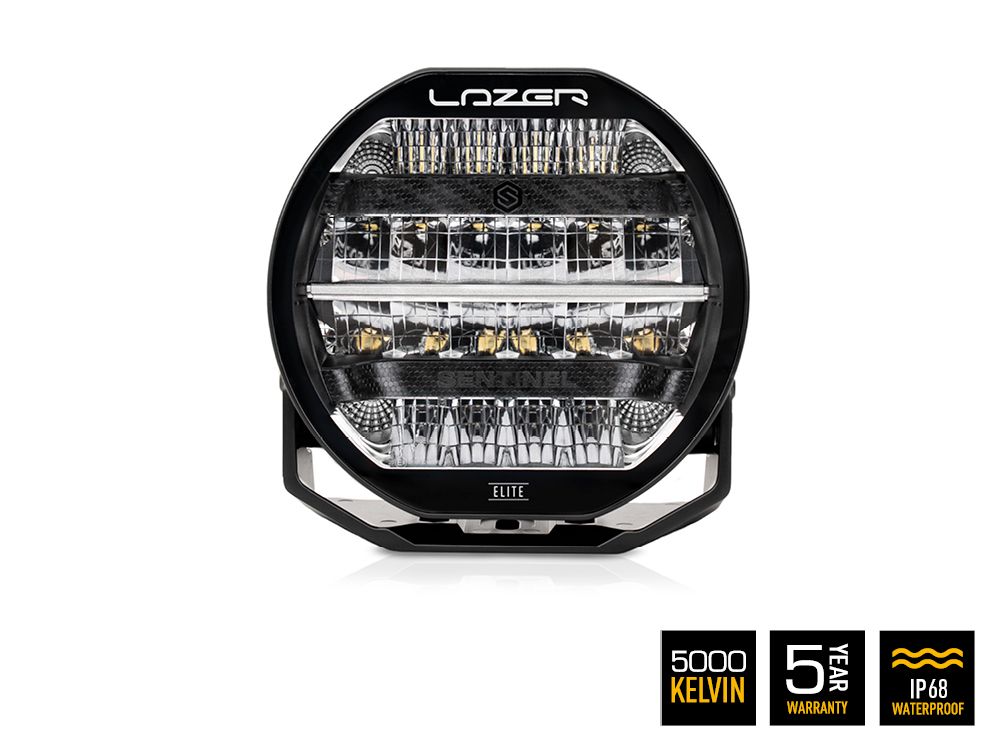 Combination of 32 premium 'bin' LEDs
Black PCB and bezel detail result in stealth black internal appearance
5000K LED colour temperature and 80CRI maximises sharpness and definition
Ultra-reflective vacuum-metallised spot and wide optics
Also avaliable with integrated white and amber backlight function (white only approved for on-road use)
Contemporary lamp design
Supplied with 'wide' diecast aluminium mounting bracket featuring Sentinel stamp
Electronic thermal management system optimises light output to preserve longevity of the LEDs
Anodised pre-treatment and automotive grade powder top-coat for ultimate corrosion and chemical protection
CAE optimised heatsink offers improved thermal dynamics
Over voltage protected
Reverse polarity protected
'Unbreakable' polycarbonate lens with hardcoat lacquer
A2 stainless steel fasteners with automotive grade black coating
Supplied with Lazer branded black lens cover
UNECE approved Reg 10
IP68 watertight – 1.5m submersion (30mins)
5-year warranty
Supplied with pre-wired male/female 2-pin Superseal connectors
Designed & manufactured in UK
Technical Specifications
Based on: 1x Sentinel 9'' Elite LED Lamp.
| | |
| --- | --- |
| Voltage Range (DC) | 10-32V |
| LED Life | 50,000 hrs |
| Weight | 2.5 kg |
| HIGH BEAM FUNCTION | |
| Total Luminous Flux | 15232 Lm |
| Total Driver 'FOV' Flux † | 9048 Lm |
| Colour Temperature | 5000k |
| Number of High Output LEDs | 32 |
| Power Consumption | 145 Watts |
| Current Draw (at 14.4V) | 10.1 Amps |
| PHOTOMETRIC DATA | |
| Horiz Beam Angle | 52 Deg |
| 0.25 lx Line | 1483 metres |
| 0.5 lx Line | 1049 metres |
| 1 lx Line | 742 metres |
| 3 lx Line | 428 metres |
† Driver FOV flux is a measure of effective lumens taking consideration of the amount of light in a driver's 'field-of-view' defined as an area +/- 45o left/right, and +/- 10o up/down. For more information – click here.
What's Included
x1 Sentinel 9'' Elite LED Lamp
x1 'Wide' or 'Slim' Mount Kit (1140K / 1141K)
x1 'Lazer' Black Lens Cover (LC-BLK-0S9)
x1 Installation Instructions
Downloads
CLICK BELOW TO DOWNLOAD (OPENS PDF IN NEW WINDOW)